When tradition reinvents itself, timeless excellence is born. This is the case with Landini, which has extended its range with the new Serie 5 tractors, utilities that will surprise you with their comfort, versatility and performance.
"With performance comparable to machines in a higher category, the new Serie 5 Stage V", comments Antonio Salvaterra, Marketing Director of Argo Tractors, "is perfect both for working in the open field and on the farm, performing any task with maximum efficiency and offering excellent operator comfort. The Landini brand has always been characterised by passion and innovation, which guide us along a path of research and development, designed and manufactured to meet the needs of every farm, with particular attention to the human factor and to style: a winning mix that has led to the Landini 5-120 Dynamic model being nominated as a finalist for the 'Tractor of the Year 2022' award in the Best Utility category".
Three models are available, powered by FPT F36 4-cylinder, 16-valve, 3.6-litre, turbo intercooler engines with Common Rail electronic injection, delivering up to 115 hp. Thanks to EGR/DOC/DPF/SCR technology, the new Serie 5 are Stage V compliant, meeting European regulations. The exhaust gas treatment system is integrated under the bonnet, thus safeguarding full visibility from the operator area.
There are eight possible transmission configurations to meet every need: from the Speed Four 12 AV + 12 RM with mechanical reverse shuttle to the T-Tronic 48 AV + 16 RM with Hi-Medium-Low, hydraulic reverse shuttle and creeper. The Landini Serie 5 with hydraulic reverse shuttle can also be equipped with Park Lock, a mechanical transmission locking device that makes it possible to safely park the tractor even on steep slopes.
The further refinement of the transmissions further increases the efficiency of the tractor in terms of power transmitted to the wheels and lower fuel consumption. The Common Rail system delivers the exact amount of fuel required for reduced fuel consumption and improved performance. Also contributing to savings is the Engine Memo Switch system, which allows the ideal engine speed to be memorised and recalled for the implement in use. The 135-litre fuel tank and 13-litre urea tank ensure a long working range.
Performance and comfort are ensured by Landini axles, which guarantee reliability in all working conditions and stability during transport. The new suspended axle option handles rough terrain in the best possible way, providing optimum comfort and safety in every situation.
To maximise traction and grip, the Serie 5 is equipped with Twin Lock, the simultaneous integral locking of the front and rear differentials. The system automatically engages and disengages the differential lock and four-wheel drive, making the operator's job easier and more efficient.
In addition, thanks to the IBS (Integrated Brake System) with oil-bath brakes integrated into the front axle, 4-wheel integral braking is possible, reducing stopping distances by 50%.
The versatility of the Landini Serie 5 takes another step forward thanks to the new hydraulic circuit, aimed at greater productivity, which has a flow rate of up to 82 l/min for services and 32 for steering, as well as 35 litres of oil that can be extracted to move, for example, tipping trailers. Faster work, simultaneous operations, heavy-duty work, all possible with reduced fuel consumption, lower engine speed, less vibration and noise, for increased comfort and reduced operator fatigue.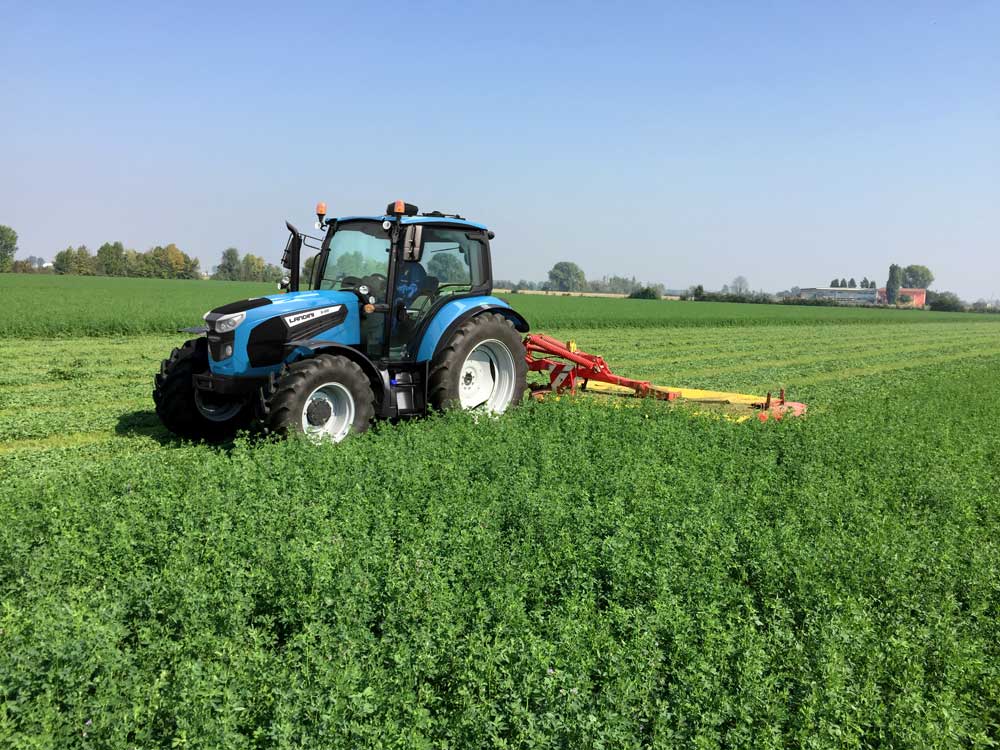 Up to 6 hydraulic spool valves are available: 3 mechanically controlled, 1 electrically controlled and, as an option, 2 mid-mounted valves for front hitch and front loader that can be combined together. There are four types of spool valves (standard, kick-out, floating and hydraulic motor) with versatile and customisable configurations. The optional flow selector allows managing up to 7 hydraulic connectors.
Versatility is also ensured by the three types of hitch systems available: mechanical, mechanical with ELS (Ergonomic Lift System), which speeds up headland manoeuvres and increases productivity, and electronic, which can repeat operations and find positions to ensure precision and performance, as well as compensating for the pitching of implements during road transport.
The geometries of the quick-release couplings and the category 2 three-point linkage with 4,500kg capacity allow for convenient and easy attachment and removal of implements.
The power take-off (PTO) has two speeds, which become 4 on request (540/540E/ 1000/1000E rpm). The hydraulically-controlled clutch engages the PTO gradually to achieve smooth engagement and avoid abrupt shaft starts. In addition, the PTO has remote controls on the fenders for easy attachment of implements, and the Auto PTO function, available with an electronic hitch, automatically engages and disengages the PTO when the hitch is operated during headland turns.
Perfectly integrated into the Serie 5 are Landini L20 front loaders that enhance the versatility and operability of the option. There are many distinguishing features: from the new Joystick allowing the easy management of various controls (high/low, load/unload; third and fourth functions; Hi-Lo and HML transmission), to the chassis designed to prevent reducing ground clearance, thus protecting crops. A technical solution that does not limit the turning radius, making the Landini Serie 5 and L20 front loader an effective, efficient and robust combination.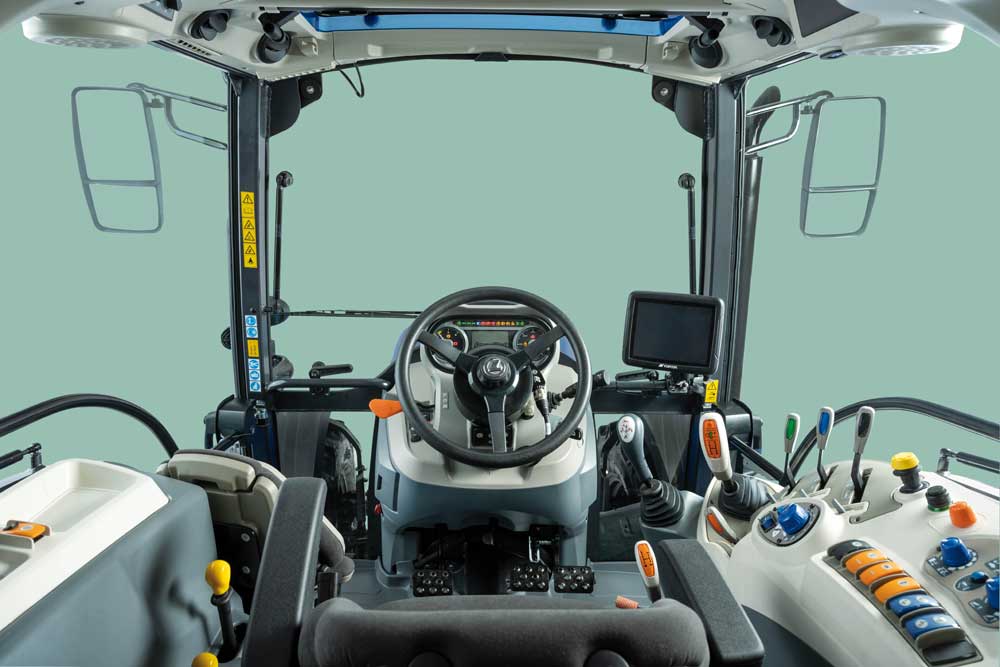 The Total View Slim cab can be rigid or mechanically suspended on two points and, in this case, contributes – together with the suspended front axle – to isolating the operator from vibrations and increasing comfort during transport and at work. The 4-pillar structure maximises the glazed area to provide a 360° field of vision, facilitating work in tight spaces and even at night thanks to up to 10 LED lights. The transparent hatch ensures a full view when using the front loader.
The steering wheel is adjustable and telescopic, the controls are ergonomic and intuitive. The interior is automotive in style, with air conditioning ensuring an ideal working environment at all times. Also included are DAB radio and Bluetooth with integrated hands-free microphone.
Satellite guidance, controlled by a convenient touch screen display, allows precise steering management while implement configuration and control can benefit from the ISObus system.
The tractor fleet can also be monitored by the Landini Fleet Management telematics system for efficient control of consumption parameters, hours and areas worked, with a view to improving profitability, productivity and remote diagnostics.
Finally, the Landini Serie 5 has also evolved in terms of scheduled maintenance, with solutions designed to meet the needs of small, medium and large farms.