Operators in the agricultural sector now have a broad range of technologies available to help them produce more with less effort, optimising resources and consumption. Work becomes more profitable as hourly costs drop – this is a key goal for all farm owners and contractors.
Innovations in this field have revolutionised the way we do farming, offering simpler and more efficient management of operations.
Automated processes provide improved precision and performance while reducing operator fatigue as the different tasks can be conveniently overseen from the display.
The technology content keeps growing and incorporates increasingly sophisticated features. The tractor cab has become a full-fledged on-board computer: machine and equipment can be operated from a single touchscreen monitor and tools connected to satellite geolocation let you trace your path and receive data and information that can be processed remotely.
Farming practices are changing rapidly as steadily evolving technologies are made available to operators. But what are the most significant innovations and what advantages do they offer to operators in the agricultural sector?
Isobus
The turning point for the introduction of the latest state-of-the-art technologies in tractors was the adoption of Isobus protocol, that lets various devices 'speak' with each other.
What is Isobus?
Isobus is the protocol defined by a specific standard that enables tractors, software and equipment to communicate even when they are of different makes.
Developed in agreement with leading manufacturers to solve compatibility issues, Isobus is a sort of universal language which allows data and information to be exchanged via a single control console installed in the tractor cab.
Machine and equipment can be conveniently operated from the cab, and they exchange data continuously to create an interconnected system.
The advantages of Isobus
Until recently, connecting different equipment to the tractor could be problematic as it meant cluttering the cab with as many control devices as there were the pieces of equipment, not to mention the wiring harnesses. As new technologies were introduced, the sheer number of control units in the tractor cab would become difficult to manage.
Isobus lets you manage all features from a single monitor: you can
operate Isobus certified equipment, such as seed drills, threshers, sprayers and maximise efficiencyas needed;
use the data exchanged in real time to plan a broad range of operations, such as regulating the flow rate or the opening and closing of the spraying sections so as to increase accuracy and avoid overlap.
Satellite-assisted guidance
The introduction of satellite receivers in tractors was a giant leap forward that permitted the fields to be worked to be mapped with a high degree of accuracy. The introduction of integrated devices and software made it possible to develop a broad range of applications, including satellite-assisted guidance.
What is satellite-assisted guidance?
Satellite-assisted guidance provides the operator with a set of drive assist devices. Once the field has been mapped using satellite receivers, the software is capable of elaborating visual plots of the path to be followed to perform field operations.
In addition, satellite guidance can be supplemented with automated steering systems that lessen driving effort so that the operator can focus on other aspects of the job such as controlling the equipment.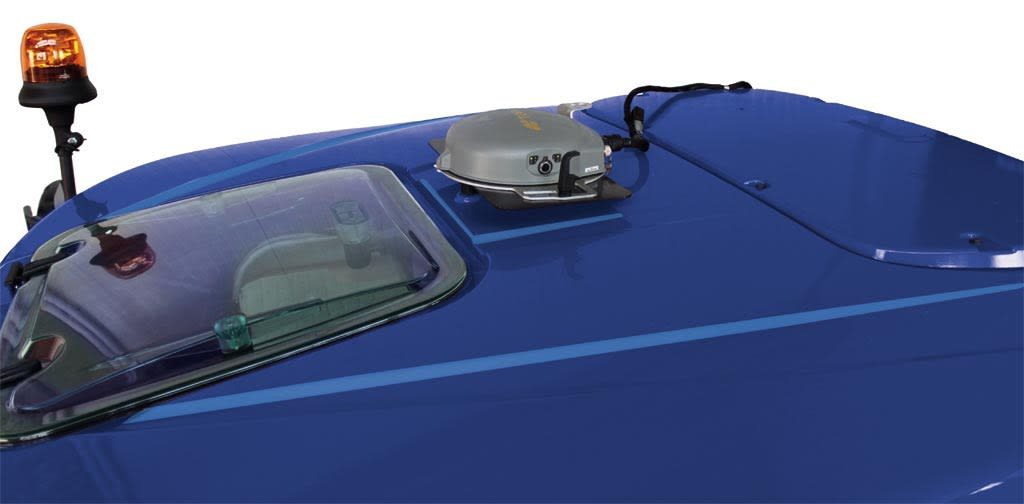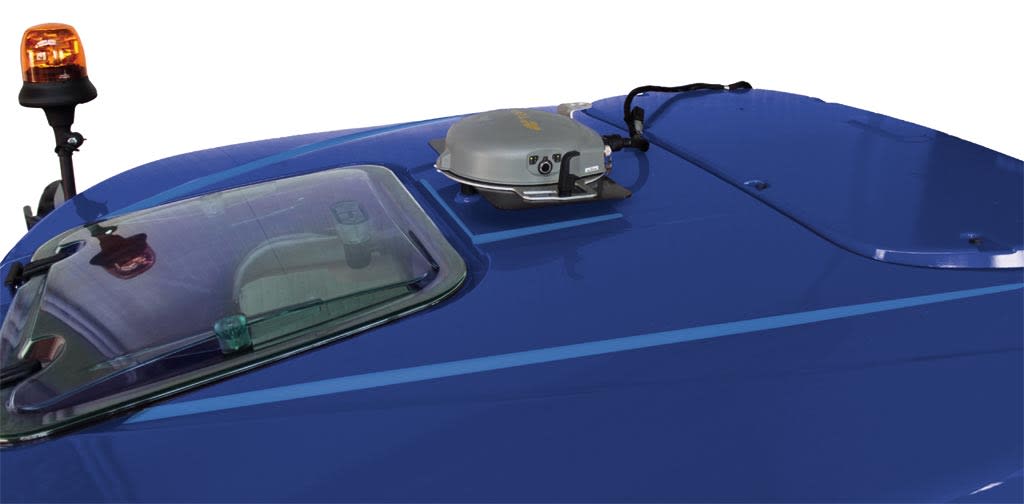 Advantages of satellite guidance
Satellite guidance allows you to work better and achieve maximum results. Production costs drop, as operation efficiency increases. The benefits are many:
Operations become easier and faster: assisted driving enables you to calculate the fastest and most effective paths, while automated steering makes handling the most complex manoeuvres a breeze.
This ensures excellent fuel economy as well as huge savings on crop protection chemicals, fertilisers and seed.
Besides easier and faster,operations become more precise, as the path processing system can achieve a degree of accuracy down to 2 cm. This enables you to avoid overlap.
Improved driver comfort and working conditions: driving requires less effort and the operator can focus more attention on controlling the equipment. A single displaylets you monitor the operations of tractor and associated equipment.
All data processed by the software can be stored and retrieved for later operations to maintain the same degree of accuracy. Each pass done later can follow the same path as the previous one.
Greater efficiency also means less impact on the environment thanks to fuel savings, less soil compaction and the elimination of waste of fertilisers and herbicides.
To offer you the best solutions, we at Landini chose to rely on Topcon, a standard-setting player in the field of precision farming with cutting-edge technology solutions with an intuitive interface, quick and easy to learn and use.
Find out more about the satellite-assisted guidance and automated steering systems.
Fleet Management
Managing a fleet of tractors is not always easy. Keeping track of movements, consumption, servicing, the work carried out daily and monthly, making forecasts for the next operations in order to optimise costs and returns are all challenging tasks.
This is why we have developed the new technologies of Landini Fleet Management, in order to provide a up-to-date overview of the fleet operations at all times.
What is Fleet Management?
Fleet Management is a telematic system that enables you to remotely monitor fleet position and operations performed in real time, in order to optimise the performance of machines and equipment.
With the integration of geolocation systems and data collection software, tractors and equipment transmit a large amount of data which can be collected, stored and retrieved from a monitor, while comfortably sitting in one's office.
Advantages of Fleet Management
With Fleet Management, managing your fleet becomes an easy, efficient task: You can:
Monitor the entire fleet in real time tracking the position and movements of each individual machine on a single map.
All information on tractor operationscan be displayed in real time: speed, engine rpm, work progress, hourly consumption, average consumption, and a lot of other data.
In addition, you can outline the area of client's fields very accurately and store the data relating to operations for the next passes.
With Fleet Management you can analyse collected data to quantify operating dataand make plans to optimise resources.
It is also possible to measure the hours spent by each tractor in a field to determine the productivity of individual machines and the effort required by operations and use this information to make forecasts for the future and set up work schedules.
You also get the opportunity to use remote diagnostics and servicing. The data on machine condition enable you to do a real-time tractor check up, so that service can be provided quickly and as needed.
This way, you can ensure that your machine fleet provides better performance and extend its life.
Fleet Management is an essential tool for a business-like management of your fleet and gives you immediate, full control over your tractors, enabling you to track work progress, evaluate performance, plan the next tasks, identify and resolve potential machine problems.
Learn more about Fleet Management
Keeping up with the evolution of farming technology as always, Landini offers cutting-edge solutions to serve operator needs, and the opportunity to customise them to suit your specific requirements.
Contact your dealer and find out how we can help you work better.