Landini Farm is the key to accessing the future and enabling smart farm management through the digitalisation of Stage V emission tractors. It also focuses on the digitalisation of the agri-food sector, to respond to emerging trends in the sector and generate a competitive advantage in the agricultural market.
With Landini's digitalisation process, ambitious goals were set in addition to major investments in B2B and B2C web, ISObus technology, telematics and telediagnostics, and GPS guidance.
Landini Farm is the App dedicated to farm management. It allows managing agronomic models and prescription maps, as well as integrating field sensors, but also defining traceability and sustainability protocols.
"We are not talking about projects or theories", explains Antonio Salvaterra, Marketing Director of Argo Tractors, "this is already a reality on our Stage V emission tractors and will soon be available to farmers in the market; farmers will have the opportunity to fully digitise their farms, allowing them to manage their financial, operational, and agronomic activities. This technology is an indispensable tool for improving the quality of life of farm owners, as well as paying more attention to the environment and the preservation of resources".
The platform enables the management of the main business functions and activities. These include land mapping and its registration, warehouse monitoring (to assess optimal levels of fertiliser to be used and stock control), but also the identification of crops suitable for the land based on its characteristics, as well as managing machinery, tractors, and human resources. It is also possible to store and export files as well as reports generated during work. Furthermore, using sensor technology applied in the field, it is possible to detect the degree of soil moisture and leaf wetness and, using meteorological data, to determine the best irrigation timing. Additionally, in the field of soil and plant care, it is possible to determine whether a particular product is effective by determining the presence of crop diseases and insect pests.
Scheduled maintenance activities and diagnosis of any problems are among the functions available. This reduces downtime and monitoring interventions to ensure tractor efficiency throughout its life cycle.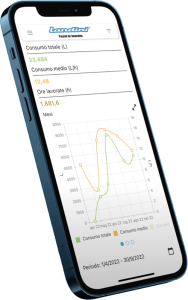 There is a lot of information stored in the platform that can be accessed by computer, tablet, or simply from a smartphone, allowing the farm manager to maintain an integrated and up-to-date view, to compile the activity register, and to certify product traceability for increasingly sustainable agriculture. This path, which is essential for both small and large companies seeking product quality, is in line with an innovative vision that aims to create – from producer to consumer – a seamless and sustainable supply chain.
"It is a precision farming approach that, today, is aided by innovative technological tools at farmers' disposal to increase efficiency and productivity," Salvaterra continues, "as well as address population growth and the reduction of cultivable land, taking climate change and biodiversity into account. The sustainability aspect is extremely important. In fact, it is possible to manage and dose the use of fertilisers or the irrigation of crops by means of soil surveys and analyses. This results in a reduction in costs and resources, culminating in a reduction in carbon footprint and water footprint while maintaining high levels of production".
Compared to the competition, Argo Tractors has an exceptional product line. In fact, it proposes a complete integration of various subjects and tools, such as: Remote diagnostics and Telematics, Farm Management Information System, satellite guidance systems and an open multi-platform data collection and sharing system (Agrirouter).
"The road we have taken is significant." Salvaterra concludes, "Argo Tractors has initiated a massive training campaign that will gradually involve all of its European subsidiaries beginning with its employees. The objective is to provide information on how this set of digital solutions can transform farming into Smart Farming. For farmers, the value of machines will increasingly depend on their ability to generate and transmit data in integrated digital ecosystems to achieve efficiency, traceability, and sustainability".