Organic farming is a fast-growing sector, throughout Europe and around the world. Organic land now covers almost 70 million acres for a market of around Euro 90 billion.
The reason for this success is simple: in recent years consumers have become increasingly interested in organic products. In response to this trend, the institutions have started to adopt a series of regulations for the certification of organic products, which are being continuously updated and will influence production in the coming years.
To master this field, it is appropriate to make some clarity and understand what we are talking about, what are the figures for organic farming and how the regulations for the production and marketing of organic products are evolving.
What is organic farming?
Organic farming is an approach to agriculture and livestock farming that aims at producing food as naturally as possible and, consequently, with a reduced environmental impact.
In order to develop a sustainable production model, it is essential that farmers start using energy and resources in a responsible way, thus enhancing biodiversity, improving soil fertility and promoting animal welfare.
The European case: regulations supporting organic farming
The boost to organic production has been given by increasingly conscious consumers, who are looking for reliable organic products and are interested in the production methods of the items on their tables. To respond to these trends, the institutions have started to develop a series of regulations at national and EU level. For instance, the European Union has approved regulations that provide for a strict control system over the entire organic supply chain.
Producers, distributors and retailers in each EU member state are therefore required to pass inspections by control bodies and authorities, to which they must register for their products to be certified as organic. Their products must meet a number of requirements that prove compliance with the rules not only as regards production, but also storage and transport.
Only after these checks, which take place at least once a year, can the organic logo, an immediately recognisable quality certification, be affixed.
In the future, such checks will be even stricter: a new regulation will come into force in 2021, with new rules for production, but also new regulations for products that are imported and will have to comply with the same EU standards.
In addition, there will be facilitations for small farmers who intend to convert their production into organic farming, while the number of products that can be marketed as organic will increase.
Organic figures in Europe
According to a recent research, Europe is the second largest continent in terms of land with organic farming after Oceania. With almost 15 million hectares in constant increase, EU countries are dedicating an important part of their production to organic farming.
As regards the land dedicated to organic farming out of the total, the first producers are Austria (23.4%), Estonia (19.6%) and Sweden (19.2%), followed by Italy (14.9%) and Switzerland (14.5%, which makes it the first among the countries of the continent not belonging to the European Union).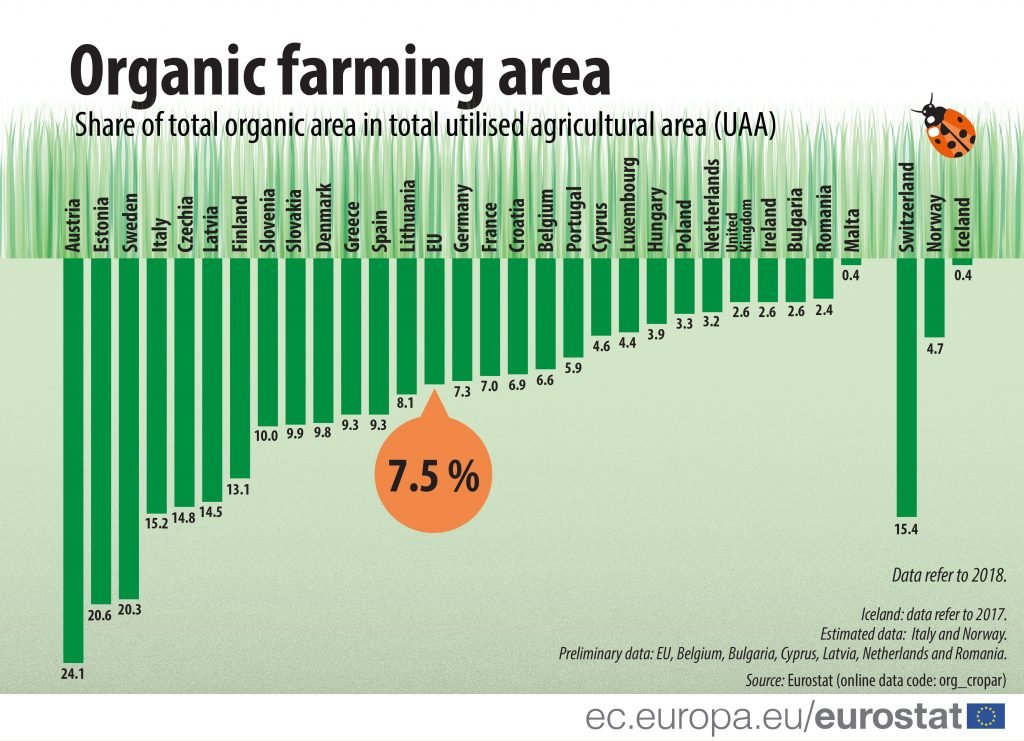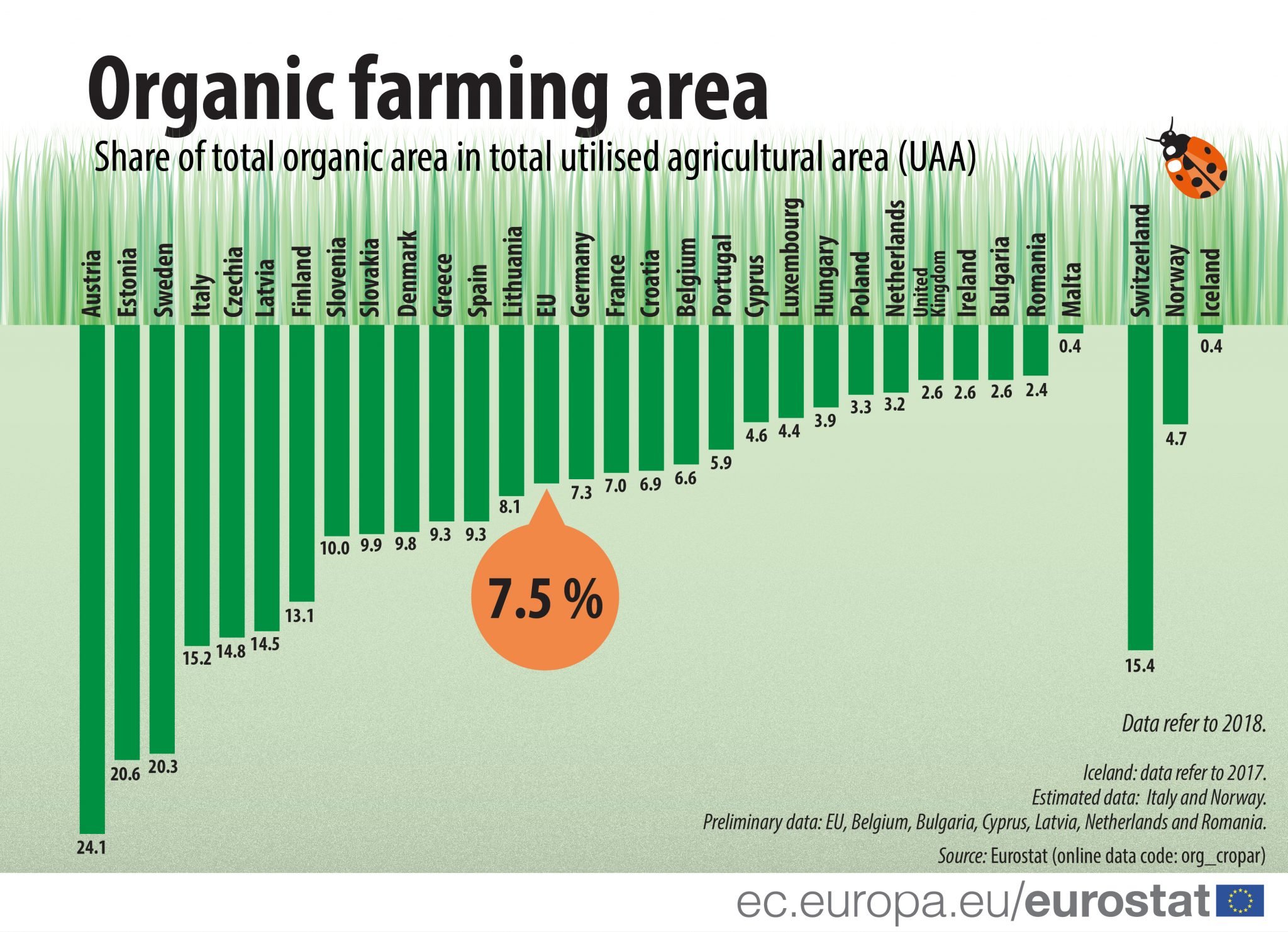 However, if we consider the absolute quantity of territory dedicated to organic farming, the ranking significantly changes, with Spain first, followed by Italy and France.
In Europe there are also some of the most important markets: Germany (Euro 10 billion) and France (Euro 7.9 billion) are second only to the United States (Euro 40 billion).
Organic farming figures in Italy
Even Italy follows the global trend: from 2010 to 2018, in fact, the surface area dedicated to organic farming increased by almost 800 thousand hectares, for a commercial value on the Italian market that exceeds Euro 3.5 billion, 8% more than in 2017. Exports are no less important and are worth about Euro 2 billion.
The organic product with the highest impact on Italian spending is represented by fruit (24%), followed by vegetables (18.9%), cereal products (16.7%), milk and dairy products (13.7%).
Organic farming can therefore represent an opportunity not to be underestimated, for a responsible production being attentive to market demands.
Thanks to our long tradition, at Landini we have always been next to those who love the land and are facing the new challenges agriculture entails.