This article takes a closer look at the topic of precision agriculture, examining how it came about and the relative technologies that have formed the backbone of this new agricultural frontier.
Contents
What is precision agriculture?
The definition provided by the International Society of Precision Agriculture is the following:
"Precision Agriculture is a management strategy that gathers, processes and analyses temporal, spatial and individual data and combines it with other information to support management decisions according to estimated variability for improved resource use efficiency, productivity, quality, profitability and sustainability of agricultural production."
The concept of precision agriculture focuses on the collection of data, which are subsequently analysed and interpreted in order to improve the "performance" of agricultural production in terms of both productivity and sustainability. The greatest challenge, upon which the results depend, lies in the management of the variables typical of the sector.
The tool, or rather, the tools utilised, fall under the category what we refer to as Agriculture 4.0: a system of interconnected technologies that allow for a "multi-channel" management method, which in turn provides for better reading and interpretation of the data set.
The advantages derived from the new tools
Precision agriculture provides for numerous advantages, including:
improvement in air and water quality thanks to the decreased use of pesticides
reduction in the amount of water used for work activities (water savings)
continuous monitoring that allows for better crop control in real time thanks to the use of sensors
data-driven: better informed and more precise decisions can be made thanks to a more structured use of the data
Increase in the harvest contribution margin thanks to the resource savings generated by more precise work operations, less waste of pesticides and fertilisers, and less fuel consumption
Applications of precision agriculture
A list of the most common applications of precision agriculture is provided below.
Semi-automatic driving
It provides a means of support for driving the tractor, with various advantages for the operator, including:
the avoidance of overlapping passes
greater sustainability
greater operational efficiency
better work quality in terms of the stresses to which the operator is subjected
operator comfort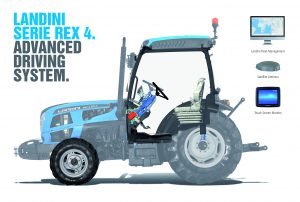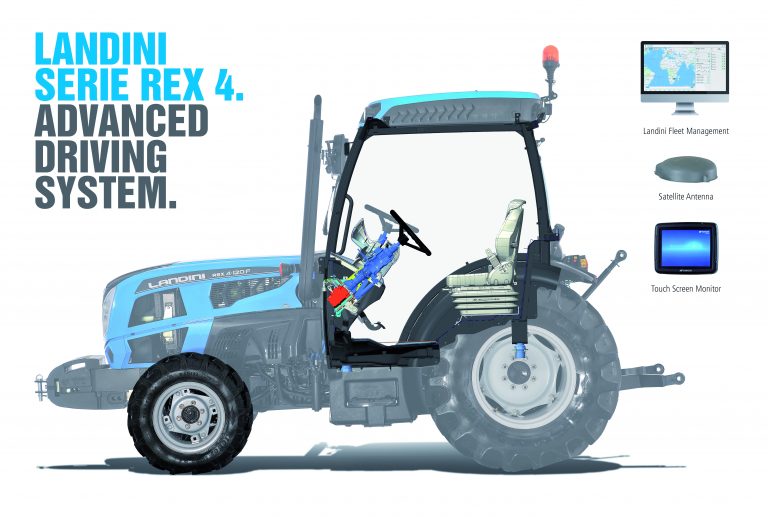 Assisted driving systems
Landini has developed its own Advanced Driving System (ADS), an innovative and award-winning (Premio Novità tecnica Eima 2018 Bologna; Máquina innovadora Agraria 2019 Valladolid) hybrid assisted driving system that uses cutting-edge mechatronic technologies to facilitate all types of field and road manoeuvres for the operator. This system also offers connection to satellite guidance, memorisation and control of wheel positions during slope and in-furrow operation, and offsets the effects of external stresses on steering accuracy. Driving comfort is enhanced by the steering becoming stiffer as a function of speed – a technology used in cars – and by the wheels automatically returning to centre.
What advantages does it offer?
Better operator comfort
Greater work efficiency
Elimination of external stresses
Improved tractor control
And much more! Discover all the advantages of the Advanced Driving System (ADS):
Satellite-assisted guidance
Landini has adopted the innovative Precision Steering Management (PSM) system, a set of integrated devices for satellite-assisted guidance. The advantages offered by this technology can be summed up in 3 points:
Reduction of operating costs
Improved tractor efficiency
Protection of the environment
Find out how to optimise your performance with PSM:
Fleet monitoring
Smart fleet management provides for optimised performance and reduced operating costs. Landini Fleet Management allows users to manage their tractor fleet electronically; the 4 pillars of this solution are the following:
monitoring
analyses
remote diagnostics
storage of work activity data
Want to manage your fleet in a high-performance manner? Discover Landini Telematics-based Fleet Management
Variable rate applications
These types of applications are used in contexts such as:
fertilisation
treatments
sowing
with two types of operational interventions:
via sensors: which detect chemical elements present in the soil based on the colouration of the crop
via prescription maps
These particular applications are generally used by large farms, and offer the benefit of ensuring a decreased environmental impact, namely:
16% reduction in fertilisers
up to a 60% reduction in herbicides
10% reduction in seeds

Production mapping
Production mapping improves our knowledge of the agricultural land's variability, allowing us to determine the areas of the land that are most and least productive, thus allowing the relative areas to be treated accordingly, enhancing their potential.
Using satellite localisation, sensor mapping allows us to obtain a mapped representation of the territory's variable aspects. This type of application also provides an overview of the products' quality, thus allowing for the separate management of the harvest based on uniform product batches (e.g. based on the wheat's protein content), with the possibility of earmarking them for uses differentiated by quality and, therefore, also by price.
Sources
Precision Ag Definition